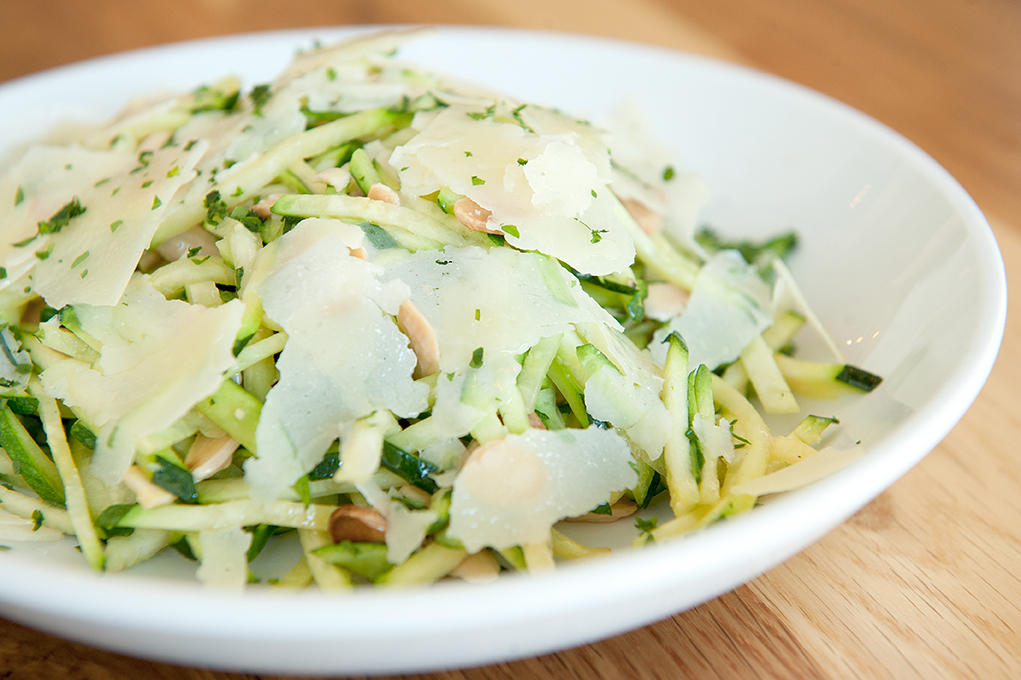 In the family-friendly town of San Anselmo you will find the beloved restaurant, Cucina San Anselmo.  Owned by the very talented restaurateur Donna Seymour, this Italian eatery has been a neighborhood favorite since 1998. A local herself, Donna grew up in Napa and is raising her kids in San Anselmo. Since we've been happily frequenting Cucina for close to a decade now ourselves, we definitely have our personal favorites. Don't miss their heavenly Brussels Sprouts Chips (oh my, the tasty combination of honey and Sriracha!). If you are in the mood for a hearty pasta dish, we highly recommend the Bombolotti al Sugo (past tubes with veal, sausage, mushrooms, tomato sauce & mascarpone…come on!).
There are so many delicious items on Cucina's menu, but there is one that Marin residents all know and love: Carpaccio di Zucchini. In all our years as guests at Donna's restaurant, I don't think we've ever strayed from this mouth-watering dish as our first course. It's delicious and pretty down-right famous here in Marin. So we thought that we'd have to work our incredible magic (or maybe even wrestle her to the ground) to get the recipe. Nope. Donna is just a lovely person who graciously shared her recipe with Arrive Marin so that we can share it with you.
Carpaccio di Zucchini
serves 4
5 zucchini
1/3 cup olive oil
2/3 cup sliced almonds
1/4 cup chopped parsley
1/3 cup shaved Pecorino cheese
The trick to this recipe is all in the technique. Do not use a hand grater or a food processor to shred the zucchini which will leave you with watery results. Hand-cutting the zucchini will give you the perfect al dente salad.
Thinly (1/8 inch) slice zucchini lengthwise and then re-stack pieces to form a whole zucchini. Cutting crosswise, thinly matchstick the zucchini. Warm the olive oil in a skillet over medium-high heat. Add the almonds and toast for about 1 minute. Add the zucchini and toss to coat in the oil, cooking just to warm through, 1 – 2 minutes. Turn off the heat, stir in the parsley and divide among 4 plates. Top with the shaved Pecorino cheese and serve at once.
Donna's wine pairing choice for this dish is a 2016 Scribe Rosé from Napa Valley.
Buon Appetito!