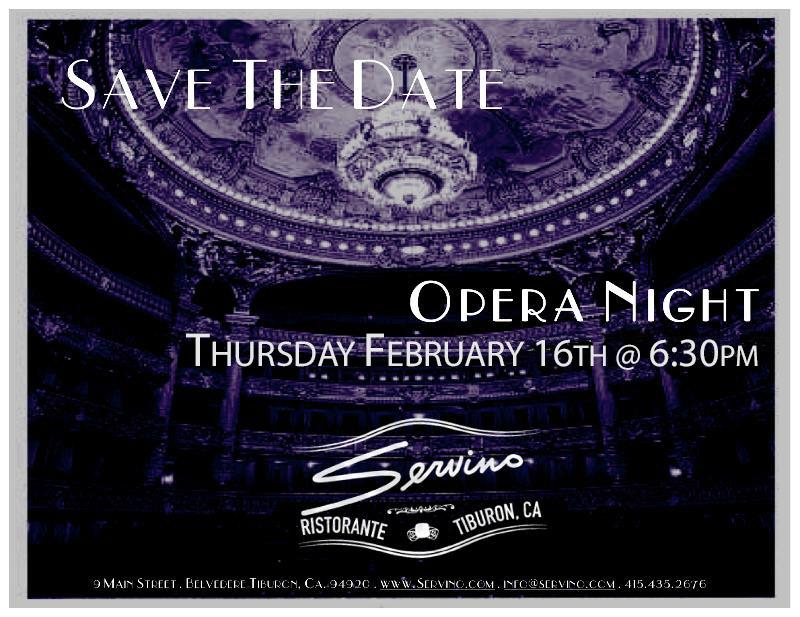 Whether you're a fan of opera or not, we're here to report on one of the coolest events happening in Marin. Once a month, Servino Restaurant in Tiburon hosts Opera Night, an all-inclusive dinner and live musical performance.
The evening is held upstairs in the restaurant's private dining room with sweeping views of The Bay. Angelo (Servino's charming owner) greets guests by first name in his thick Italian accent. Long communal tables are a nice touch as many guests have formed bonds, returning month after month to see friends. Are you getting the picture here?
The cost is $95 per person and includes Prosecco and appetizers followed by a delicious 4-course dinner, complete with wine pairings.
In between each course, The Maestro of this enchanted evening tells a colorful story of a particular opera. He offers insight into each song's history providing a deeper meaning. While The Maestro commands attention at an impressive grand piano, world-class opera singers steal the show. It's really quite incredible in such an intimate environment.
Trust us, this is one of those Bay Area events you need to add to your bucket list. We're going to brush up on our conversational Italian and enjoy another Opera Night soon!
DETAILS:
Servino
9 main street, Tiburon
Reservations: 415.435.2676