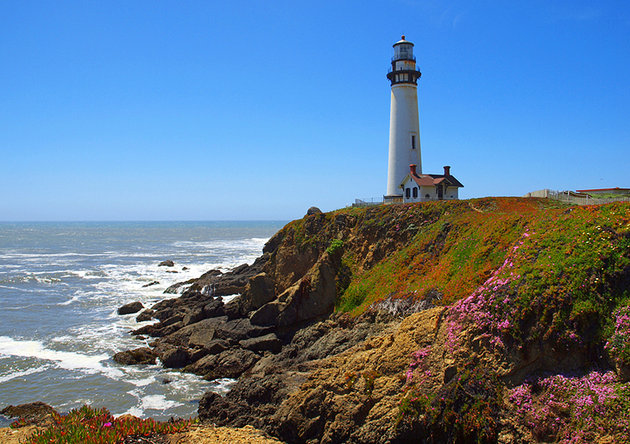 We know, so many amazing nearby excursions from Marin, so little time! But, we're going to need you to add Half Moon Bay to your list. This charming little city with an historic downtown sits on some of the most gorgeous coastline California has to offer. Just 30 minutes south of San Francisco, of course we're going to suggest you hug the coast along Highway 1 to get there!
WHERE TO STAY
The Ritz Carlton It's really hard to do justice to this gorgeous oceanfront hotel. We'll just leave you with this: world-class restaurant, two championship golf courses, and a spa that incorporates local ingredients such as pumpkin.
Half Moon Bay State Beach With a pristine 4 mile-stretch of sandy shoreline, this is a great camping spot. Reservations are a must and pack appropriately as it can get rather chilly at night.
WHERE TO EAT
Pasta Moon Restaurant & Bar Farm to table Italian with mouth-watering housemade pastas such as the butternut squash and mascarpone ravioli.
San Benito House Deli Prepare to wait in line, but we promise it's worth the wait. The secret to these coveted sandwiches is the housemade bread. While all their breads are to die for we're partial to the olive-walnut.
Sam's Chowder House & Oyster Bar Ok, it's touristy, but when you are sitting on the (usually chilly) Northern California coast, a warm bowl of clam chowder really hits the spot.
The Barn Who can say no to a restaurant with "Love, Peace & Burger Grease" as their tagline. We're happy to indulge in a menu that features grass-fed burgers, fried macaroni & cheese bites, and local brews.
WHAT TO DO
Stroll downtown Main Street, visit endless roadside farm stands and if you are a gardener, don't miss the mothership of nurseries, Half Moon Bay Nursery.
Spend the day at Half Moon Bay State Beach for some of the best surfing in Northern California. Grab a picnic feast from the Half Moon Bay Wine & Cheese Bar on the way to the beach.
About 7 miles north of Half Moon Bay you will find Moss Beach. Visit the Fitzgerald Marine Reserve for tide pools during the day. We highly recommend watching the sunset with cocktails on the heated patio of the Moss Beach Distillery which overlooks the ocean.
Visit the 115-foot high Pigeon Point Light House situated on a cliff where you are sure to see seals and whales during migrating season.